10th Responsible Management Education Research Conference
WELCOME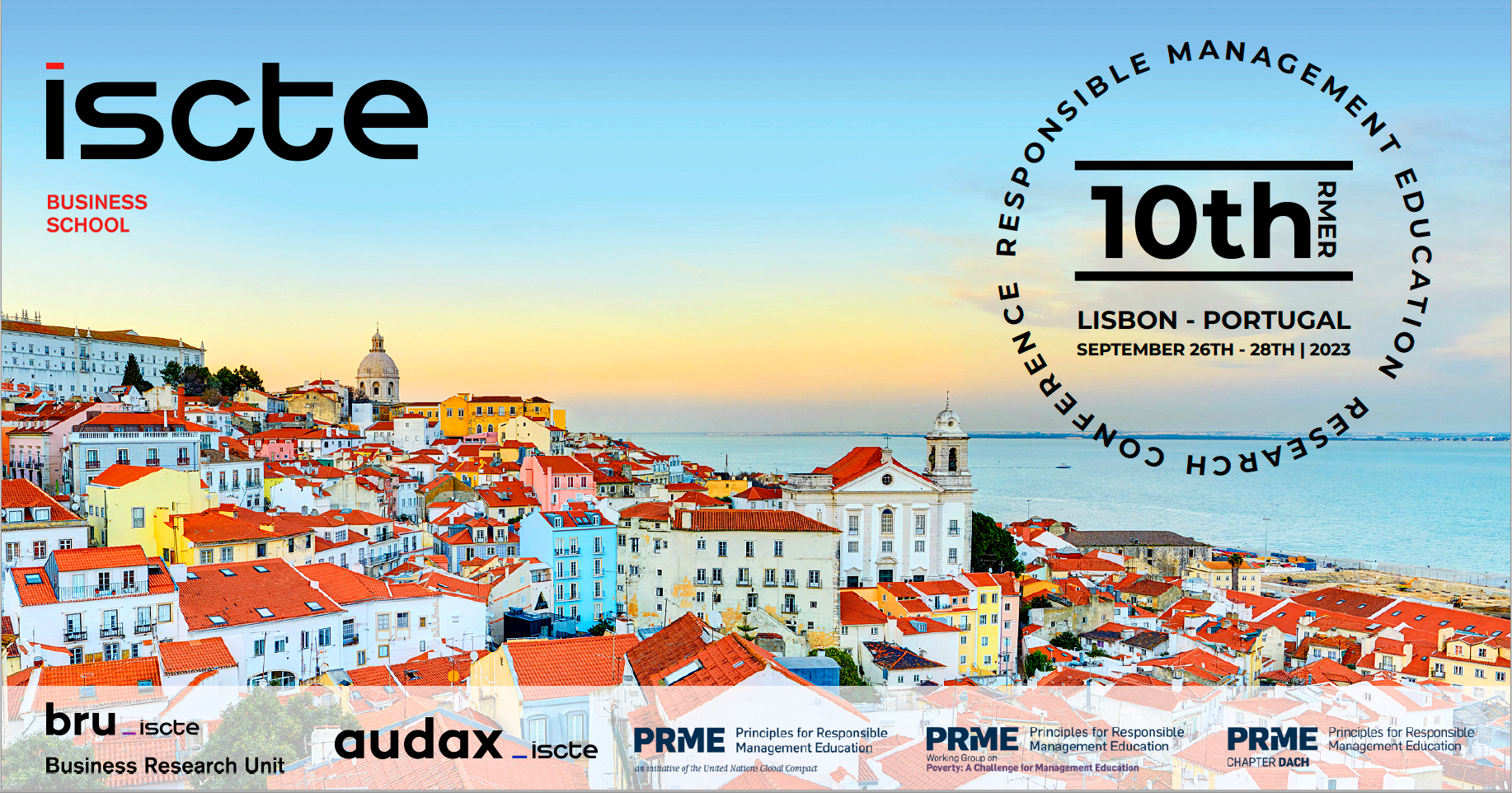 Sustainable and Responsible Management:
A decade of Integrating Knowledge and Creating Societal Impact through Innovation and Entrepreneurship
The 10th RMER Conference hosted by Iscte Business School is a forum intended to engage multiple stakeholders in a dialogue around Agenda 2030 and beyond and enhance further collaborations in responsible management education and research, and sustainable business practices to advance the SDGs.
This year marks the 10th, Jubilee anniversary of RMER Conferences. Across a decade of achievement, RMER Conferences have explored the complexities and global challenges involved in the transition to more sustainable production and consumption patterns. Different agents, including companies, nonprofits, governmental entities, organizations, consumers, and society at large, need to work together to effectively advance the 2030 Agenda and beyond. Through multidimensional and multidisciplinary dialogue and knowledge sharing among management educators in conversation with other stakeholders have advanced responsible management education and learning. As the challenge remains, further dialogue on how economic restructuring and social transformation on the journey to a more sustainable world is still needed.
The main goal of the global 10th RMER Conference is to bring together the responsible management education community and its stakeholders to drive societal impact through innovative and entrepreneurial ways that are grounded in the six PRME principles of purpose, values, method, research, dialogue and partnerships.
This continues the RMER tradition of holding inspirational, multidisciplinary and multicultural events that contribute to mutual sharing and learning among management educators and other stakeholders – all in service of creating positive societal impact through innovation and entrepreneurship.
Questions of special interest to be addressed include, but are not limited to, the following:
What have we accomplished in the last decade of responsible management education? Where should we be heading?
What are the implications of developing entrepreneurial and intrapreneurial capabilities for sustainable businesses, economic restructuring and societal transformation?
How can management education and learning in social, economic and environmental responsibility transform and innovate organizations?
How can we integrate knowledge and create impact through innovation and entrepreneurship?
What strategies can be used for advancing responsible management education, research and learning?
How can innovation and responsible entrepreneurship, including social entrepreneurship, be encouraged?
How to help management educators and students cross disciplinary boundaries and engage with non-managerial disciplines to effectively deal with complex issues and challenges?
How to foster dialogue and partnership with other individuals, groups, organizations and other stakeholders towards creating positive societal impact?
How do business schools need to adapt educational approaches to tackle sustainability related business challenges?
We cordially invite you to participate in the debate about how diverse stakeholders can successfully engage, collaborate and partner towards achieving a more responsible management education for a better world.
Conference Dates:
26 September PRME-Related Meetings and Workshops and Conference Opening
27 September Conference and Social Dinner
28 September Conference and Closing Ceremony
Conference Venue:
Iscte Business School, Iscte - University Institute of Lisbon
Lisbon, Portugal
IMPORTANT DATES
Important Dates:
20 January

Call for conference track proposals opens - Call for tracks - 10th RMER
20 February
Deadline for track proposals (closed)
02 March

Call for contributions (extended abstract) opens

+ Info: Call for Contributions 10th RMER 2023 - new deadline

08 May

New deadline for authors' submissions of contributions (extension)
09 June
Notification of submission acceptance (extension)
30 June

Deadline for author registration

18 August
Deadline for early-bird registration (extension)
04 September
Deadline for regular registration
PREVIOUS CONFERENCES
The venues of the RMER Conferences, a joint project PRME Regional Chapter DACH and the PRME Anti-Poverty Working Group, rotate among PRME DACH Chapter institutions and those from the global community of the PRME Anti-poverty Working Group members. The previous nine RMER Conferences, their themes and venues included:
2014: The Future of Responsible Management Education, Chur, Switzerland
2015: Inclusive Business, Cairo, Egypt
2016: Linking SDGs and Responsible Management Education at Universities, Krems, Austria
2017: New Research Questions for Responsible Management Education and Advancement of SDGs, Curitiba, Brazil
2018: Leadership Development for Advancing the SDGs, Cologne, Germany
2019: Multi-stakeholder Engagement for the Agenda 2030, Jönköping, Sweden
2020: The promise of digitalization and artificial intelligence: Implications for responsible management education and moving forward with the SDGs, Chur, Switzerland
2021: Poverty and Prosperity: Implications for Advancing the SDGs, 2030 Agenda and Responsible Management Education in a Post-Pandemic World, Suzhou, China
2022:

Societal Impact through Entrepreneurship & Innovation: Responsible Leadership Education for the Changemakers of tomorrow, Innsbruck, Austria



PROGRAM COMMITTEE MEMBERS
Christian Baumgartner

Head of Major Sustainable Tourism & International Development

Fachhochschule Graubünden

Chur, Switzerland

Ana Patrícia Duarte

Organizational Behaviour and Human Resources Group Coordinator

Integrated Researcher

BRU-Iscte

Lisboa, Portugal

Ana Sofia Fonseca

Management Coordinator

Audax - Iscte

Lisboa, Portugal

Lisa Fröhlich

President

Professor of Strategic Supply Management

DACH Chapter

Cologne, Germany

Milenko Gudic

Founding Director

Refoment Consulting and Coaching

Belgrade, Serbia

Alfred Rosenbloom

Professor Emeritus, Marketing & International Business

Brennan School of Business

Illinois, USA

Ana Simaens

Associate Dean for Engagement and Impact

Assistant Professor of Strategy, Responsibility and Sustainability

Iscte Business School

Lisboa, Portugal
CONFERENCE REGISTRATION, FEES AND METHODS OF PAYMENT
Conference Registration
The 10th RMER Conference will be held as an on-site event in Lisbon, Portugal from the 26 to the 28th of September 2023.
Conference Fees
All participants, presenting authors, track chairs, or moderators will need to register and pay the conference fees. PRME members pay the full registration fees to attend the RMER Conference. By attending the 10th RMER Conference, you consent to photos, videos, etc. being taken for reproduction and distribution for educational, news or promotional purposes.
The following dates and rates apply for participating in the 10th RMER Conference:
Standard Fee registration up to September 4th: 400 EUR
Extension Early Bird Fee up to August 18th: 300 EUR
Student Fee: 100 EUR
Conference Dinner: EUR 50

Registration Deadline Authors: June 30th
The conference fee includes Welcome Reception, admission to all sessions and conference workshops, coffee breaks and lunches. Conference fees do not include the conference dinner on 27 September 2023 (50 EUR per person). We do not offer special rates for accompanying persons. All attendees must register as conference participants.
1) Bank Transfer
Please, send proof of payment to: rmer2023@iscte-iul.pt
| | |
| --- | --- |
| Banking institution | Caixa Geral de Depósitos |
| Branch office | Campo Grande |
| Reference to be indicated on transfer | RMER + Last Name + First Name |
| Account number | 0035 0368 0000 5653 6308 3 |
| IBAN | PT50 0035 0368 0000 5653 6308 3 |
| SWIFT Code | CGDIPTPL |
2) Paypal
E-mail address for payment to: audax@iscte-iul.pt
ORGANIZERS
LOCAL ORGANIZERS


CO-ORGANIZERS

SPONSORS AND SUPPORTERS
Under the High Patronage of the President of the Portuguese Republic


CONTACT
For more information, please contact: RMER2023@iscte-iul.pt
Feel free to further explore the PRME community:
HOW TO REACH ISCTE AND ACCOMODATION
How to reach Iscte
Join us in charming Lisbon, the heart of beautiful coastline of beaches and natural scenery, for this annual gathering of the global PRME Community and beyond to share and discuss new ideas, approaches, theories, experiences and practical applications to responsible leadership education and the advancement of the Sustainable Development Goals (SDGs).
Addres: Iscte - Instituto Universitário de Lisboa Av. das Forças Armadas, 1649-026 Lisboa-Portugal
Coordinates: Latitude: 38.748753; Longitude: -9.153692
Below are
directions
from the airport to
Iscte
campus
through underground/subway
and bus
lines
.
Flights
Considering the numerous airlines and flights from different cities across the globe to Lisbon airport (LIS), we have not arranged with a particular travel agency for flights to Lisbon. Good deals can be found online or through different airlines.
Lisbon Airport is the main international gateway to Portugal. It is one of the few airports in Europe located inside a major city.
BUS
Bus Nº 783: Portela - Aeroporto - Amoreiras
Bus Nº 744: Marquês Pombal – Aeroporto – Moscavide
The trip takes about 30 minutes. Bus station: Av. Forças Armadas
TAXI or UBER
Two taxi stands are within the airport's perimeter, one at arrivals and the
other at departures. You can also order a UBER from the airport.
The trip takes about 10 minutes. Iscte is by car 10-15 minutes from the city center (ex. Rossio).
Underground / subway train
The Lisbon Airport has a Metro (subway) station with a direct line to the city center. The 'Aeroporto – Saldanha' line takes you to downtown Lisbon in about 20 minutes.
The campus area is in Entrecampos metro station. The Metro network will allow you to move around the city at ease. It is a quick and sustainable way to get around, plus you'll get to see Lisbon's subway stations – each with its own theme and décor.
You must purchase the '7 Colinas' / 'Viva Viagem' electronic travel card, which you can then top up with balance for your journeys and can be used both for the Metro and Carris (bus network):
7 Colinas / Viva Viagem electronic card: €0.50 (current price)
Single Fare Price: €1.50 (current price)
24h Network Pass: €6.45 (current price)
http://metro.transporteslisboa.pt/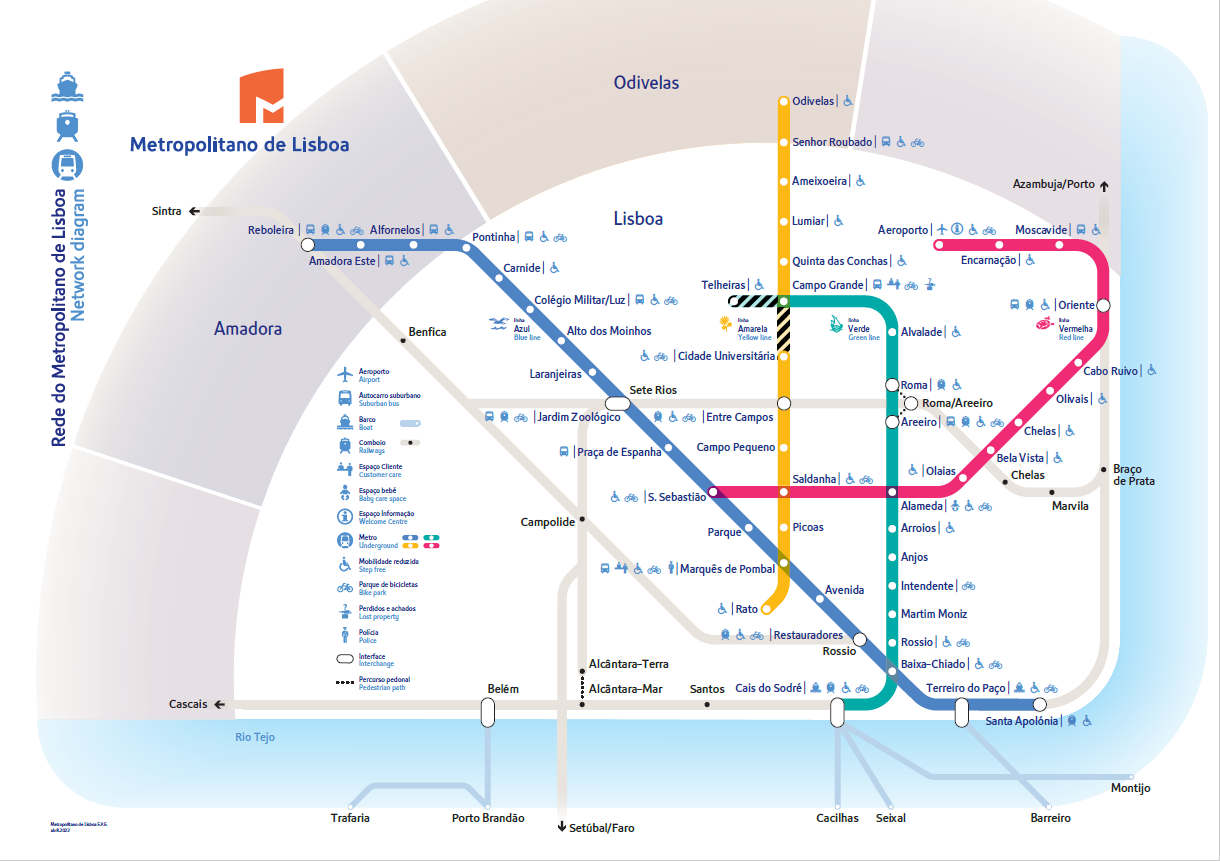 Accomodation
Lisbon is a popular destination and is already well booked in September. We, therefore, recommend booking your hotel as soon as possible. Please find accommodation options below. Furthermore, platforms such as booking.com will give you a wide range of prices and choices for your stay in Lisbon.
VIP Grand Lisboa Hotel & Spa*****
Address: Avenida 5 de Outubro, 197
1050-054 Lisboa, Portugal
Phone: +351 210 435 000
Distance from Iscte: 950 m or an 11-minute walk
VIP Executive Entrecampos Hotel & Conference****
Address: Avenida 5 de Outubro, 295
1600-035 Lisboa, Portugal
Phone: +351 210 043 000
Distance from Iscte: 350 m or a 4-minute walk
Hotel NH Lisboa Campo Grande****
Address: Campo Grande, 7
1700-087 Lisboa, Portugal
Phone: +351 21 7917600
Distance from Iscte: 450 m or a 5-minute walk
SANA Metropolitan Hotel**

*

*
Address: R. Soeiro Pereira Gomes 2
1600-198 Lisboa, Portugal
Phone: +351 21 798 2500
Distance from Iscte: 750 m or a 10-minute walk
Holiday Inn Lisbon - Continental**

*

*
Address: Rua Laura Alves 9
1050-124 Lisbon, Portugal
Phone: +351 21 004 6000
Distance from Iscte: 1000 m or a 14-minute walk
Address: Av. Antonio de Serpa 13
1069-199 Lisbon, Portugal
Phone: +351 21 781 4300
Distance from Iscte: 950 m or an 11-minute walk
VIP Executive Zurique Hotel ***
Address: Rua Ivone Silva, 18
1050-124 Lisboa, Portugal
Phone: +351 217 814 000
Distance from Iscte: 950 m or a 12-minute walk