I ISCTE Doctoral Colloquium in Accounting Research
WELCOME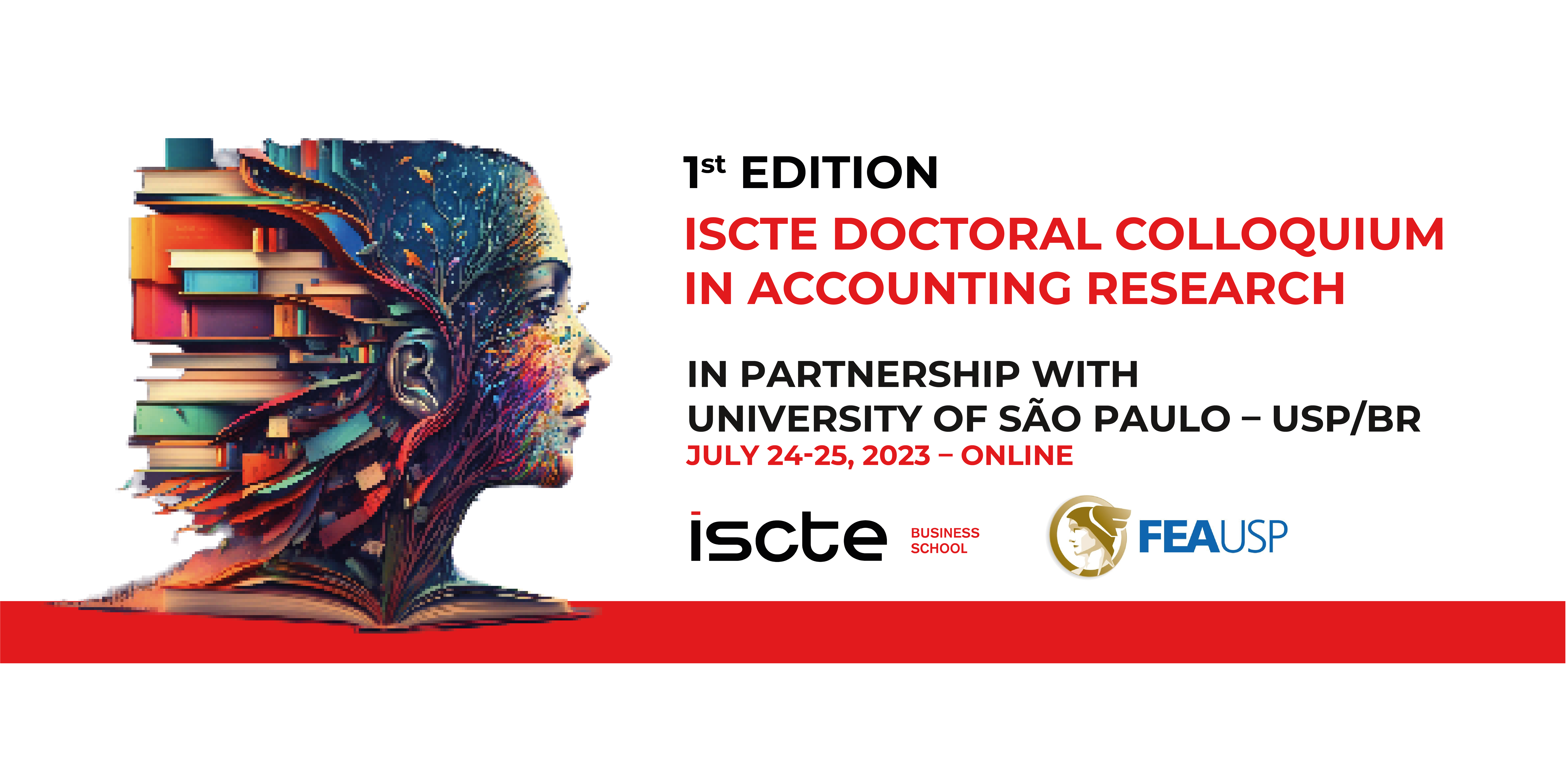 I ISCTE Doctoral Colloquium in Accounting Research
In Partnership with University of São Paulo – USP/BR
July 24-25, 2023 – Online
We are pleased to announce the I ISCTE Doctoral Colloquium in Accounting Research and the VIII USP Doctoral Consortium in Accounting Research on July 24-25, 2023, in ONLINE FORMAT, which will be jointly held by the Accounting Department of ISCTE Business School (PT) and the Graduate Program in Controllership and Accounting at FEA-USP (BR).
This Doctoral Colloquium aims to help PhD students from any University to improve the quality of their theses and the impact of their research, both at the national and international levels. It will also contribute to the integration of PhD students with their colleagues from European and Brazilian Universities, as well as with international researchers.
The language of the event is English.

Submission and participation in the Doctoral Colloquium are free of charge.
Format and Activities
Experienced international researchers will give lectures about relevant issues in accounting research and, together with ISCTE-IUL and USP faculty members, they can participate in guided discussions of the research proposals submitted by the PhD students, aiming to contribute to their development. Proposals with either quantitative or qualitative methodological approaches are welcome.
IMPORTANT DATES
July 24-25 Doctoral Colloquium
June 18 Due date for sending the Research Proposals
June 30 Announcement of the Research Proposals selected
ORGANIZING COMMITTEES
Organizing Committee

University Institute od Lisbon - ISCTE-IUL

Organizing Committee

University of São Paulo (BR)

Isabel Lourenço

Maria João Major

Pedro Ferreira

Ana Conceição

Inna Paiva

Rúben Barros

Renê Coppe Pimentel

Andson Braga de Aguiar

Lucas Ayres B.C. Barros

Luís Eduardo Afonso

Mara Jane Contrera Malacrida

Raquel Wille Sarquis
RESEARCH PROPOSAL
Candidates should submit a short research proposal, in English, including the following sections (the number of pages in parentheses is only a suggestion):
1) Cover page with the Title, Abstract, Keywords, and the name and affiliation of the PhD student

2) Introduction (approx. 1 page)
i) Research problem (and its importance)
ii) Research questions
iii) Contribution for knowledge and practice

3) Literature review (approx. 3 pages)
i) Gaps in the literature that justify research
ii) Hypotheses (if applicable)
iii) Theoretical lens (if applicable)

4) Methodology (approx. 3 pages)
i) Sample, variables and models (for quantitative studies)
ii) Research methods, sources of data and analysis of data (for qualitative studies)

5) References (approx. 1 page)
The proposals should be sent to the following address:

> ppgcc@usp.br (Enzo Pedra) and phd.bru-unide@iscte-iul.pt (Aleksandra Marques), copying dconsortium.acc@gmail.com
PROGRAM
Monday, July 24th, 2023 (WEST – Western European Summer Time - GMT+1)
12:45 – 13:00 – Welcome address
13:00 – 14:30 – Lecture: Maria Correia (London School of Economics)
14:30 – 15:00 – Coffee Break
15:00 – 16:30 – Guided Discussions
16:30 – 18:00 – Coffee Break
18:00 – 19:30 – Guided Discussions
Tuesday, July 25th, 2023 (WEST – Western European Summer Time - GMT+1)
13:00 – 14:30 – Guided Discussions
14:30 – 15:00 – Coffee Break

15:00 – 16:30 – Lecture: Katherine Schipper (Duke University Fuqua School of Business)

16h30 – 18h00 – Coffee Break

18:00 – 19:30 – Lecture: David Debford (University of Technology Sidney)
19:30 – 19:45 – Closing remarks
INTERNATIONAL GUESTS
Katherine Schipper


Professor

Duke University's

Fuqua School of Business

Former Editor

Journal of Accounting Research

Editorial Board

The Accounting Review

Accounting and Business Research
















David Bedford

Professor

University of Technology (UTS)

Business School, Australia

Associate Editor

British Accounting Review

Journal of Management Control

Editorial Board

Accounting, Organizations and Society













Maria Correia

Associate Professor


London School of Economics

and Political Science (LSE), UK

Associate Editor

Accounting and Business Research

and the European Accounting Review