Alumni Around the World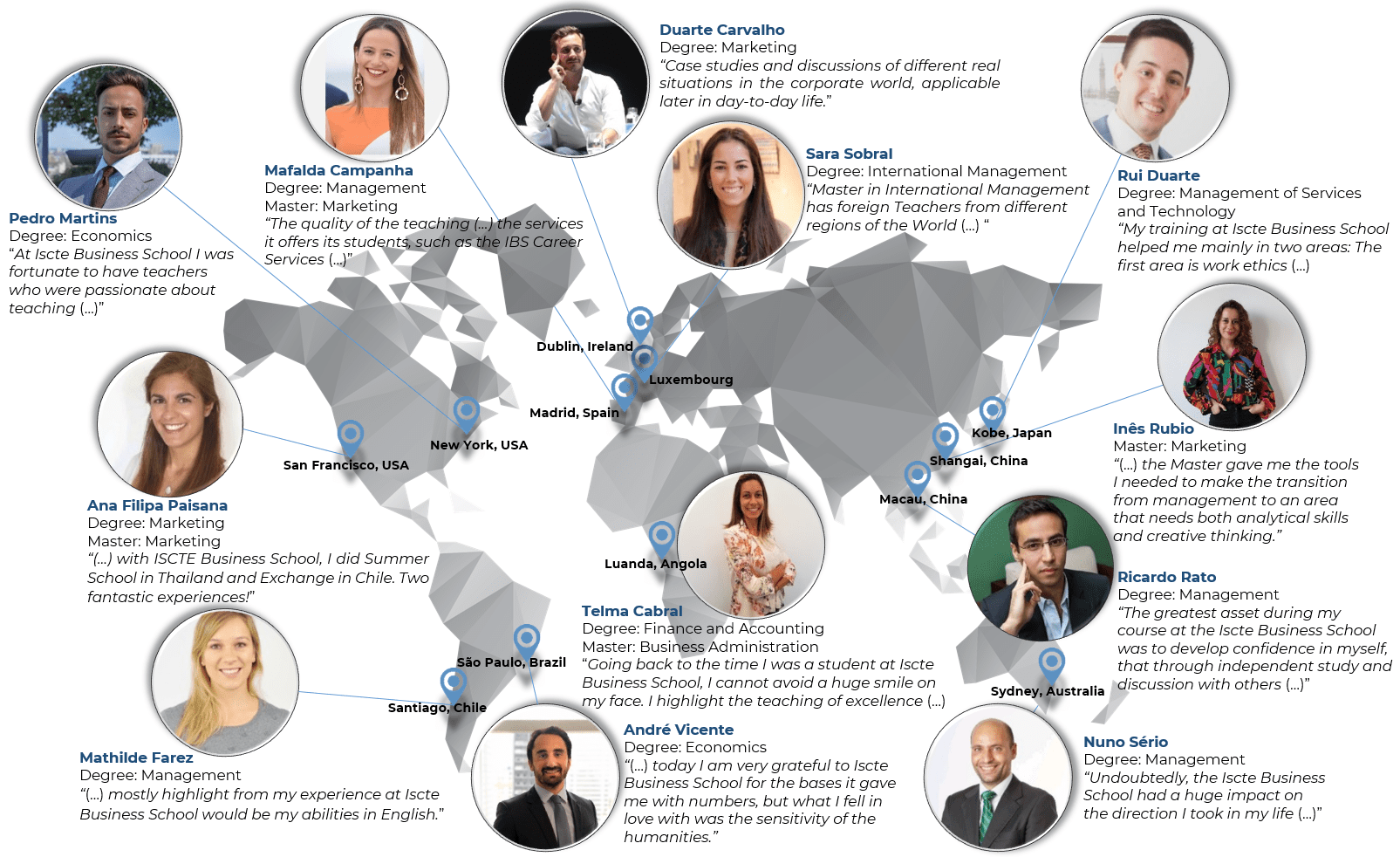 Below, you can find the testimonials of our alumni and get more information on their activities, challenges and recommendations to pursue a career abroad!
André Vicente | Brazil
CEO, Adecco Group

São Paulo, Brazil

Undergraduate Degree in Economics (2007)
The Adecco Group is the world's leading group in Human Resources services, ranked 397th in the "Fortune 500" magazine (the largest companies in the world) and considered in 2019 by "Great Place to Work" as the 2nd best place to work in Europe. Worldwide turnover of Euro 24Bi with various brands on the market in all HR services.
When I left Iscte, I started working at Adecco in 2007 at an agency in Lisbon at Expo and in the last 13 years, I went through several positions: I started as a Team Leader (one and a half years), the Agency Director (one and a half years) , Key Account Manager (one year), National Account Manager (two years), BPO unit manager (two years) and I was placed in São Paulo as Director of the International Department for Latin America (two years) from 9 countries (from Mexico to below), then Executive Director in Brazil (two years), and I am currently as CEO of the group in Brazil since last year. I was elected the youngest CEO ever in the group at 34 years old.
From a personal point of view, which was fundamental, I always had experiences abroad. I lived in Cape Verde when I was little and I did Erasmus in Budapest. Personal experiences are very important in shaping who we are and what we want.
In the professional context, I can only thank and return what I have been provided to the company, since I joined Adecco, I fell in love with culture, business and purpose, and I was always given the opportunity to learn, do what I liked, be recognized, have new opportunities and challenges, sometimes annually, and continually learn. From the moment we enter a multinational with a large structure, the possibility of migrating becomes real, and for me it has always been something that motivated me a lot, opportunities appear and in my case, the opportunity for Latin America arose and since so I'm here, in Brazil.
The training in Economics at the Iscte Business School, being very plural in terms of science, allowed me to get a very broad vision of the paths to follow. For example, the passion for HR, even in an Economics course, came from there. At the same time, today I am very grateful to Iscte Business School for the bases it gave me with numbers, but what I fell in love with was the sensitivity of the humanities, complemented by the numerical ones. The great advantage, without a doubt, is the plurality of the degree. I would say, that opens our minds, and then, depending on the paths we decide for us, to specialize in the areas that we feel most challenged and that we most want to discover and grow. But without that openness, there would be no choices. And of course, the name and prestige of the institution, which opens more doors for you! And being less political, the environment and of course, the parties! That allow you to meet a lot of interesting, different people, with different bases, and that help you to form an opinion and define who you are and where you follow your path.
When we finish the course, the feeling is very present… "what now? What I do? What do I want and what don't I want? Where does the path go?" We have many questions, uncertainties and uncertainties, even insecurities, and we want to take revenge, but we don't know where to direct it, or that we should prioritize or prioritize for ourselves. For me, I would say that the first piece of advice that I would have loved to have someone give me would be: "calm, what you are feeling is normal" ... anxiety is not worth it ... time will give you the answers. After academic training, my main advice is to prioritize starting in places where you will learn, learn and learn and do not prioritize salary, do not limit yourself to the name of the company, do not focus only on the position ... choose places that allow you to learn, surrounded by people and good leaders, being in a context where do you think you will feel happier. Be aware, that the course you decide must always go according to the heart (which makes us happy) and that the rational thinks it is the best (learn and leave the comfort zone), whether in the activity sector, functions , developments, etc. And have the comfort that regardless of the decision, if later, we find that the path does not pass there, smooth. Time will tell us if this is where the career will go or not, and one thing is certain: only experiences and learning will show us over time, what we like and what we don't like, what we want and don't we want in the future. The answers become clearer with the experiences.
Latin America from a political, social, cultural, human and economic point of view is very different from Europe and Portugal. Brazil even more! Personally, I am very happy here and I do not believe that in the short, medium and even long term, I will return to live in Europe or at the limit in Portugal,…I can only thank Brazil and Latin America! Although, I love my country and my city (Lisbon) and where I have my family and friends.
Fortunately, here I found much more facilities than difficulties. I would highlight the language, culture, climate and technical and professional maturity of the business. Initially even based in São Paulo, I started with a position in Latin America, traveled a lot through all countries from Mexico to the South and the fact that I was fluent in Castilian, and of course in Portuguese helped me a lot. Then the level of technical and professional maturity in the business in Portugal, learned in Europe, helped me a lot in the macro and leadership objectives that the company intends to implement here from the technical point of view. The climate is wonderful and the culture welcomes people from outside.
The main difficulties, although it is also a facility, but more in the challenging point of view, culture. Understand that if we want to have personal and professional success abroad, and in such a different reality, and in this case, in Latin America and Brazil, we have to understand the habits, the culture, I would even say the cultural historical context, which define the lives of people and their priorities and what they value most and least. It is a process. We cannot arrive and impose something from Portugal or European, we must know how to listen, understand, suggest and adapt.
I miss my family, friends, food and Sporting! :)
Daniel Alves do Quental | Spain
My name is Daniel Alves do Quental and I am a consultant at Oliver Wyman, at the Madrid office. Oliver Wyman is a world reference player in strategic consulting.
When I joined Iscte Business School in 2015, I was part of the 1st generation of my family to go to college and, therefore, I had as a clear objective to take advantage of the privilege that had been granted to me to the fullest. Therefore, I set my goals for the next 3 years - I wanted to have an academic path of excellence, combined with close contact with the business reality.
From an early age, I realized that Iscte Business School was a school that invested a lot in giving initiative to students - class schedules were concentrated in the morning / afternoon, there was a strong component of group work, etc. Having this responsibility and this practical teaching was incredibly useful to build a customized and flexible learning experience.
Over the 3 years at Iscte Business School, I created a business blog that allowed me to meet directors and CEOs in more than 20 companies (including Microsoft, L'Óreal, etc.), I did 4 internships in 3 years (3 of them during the Summer, at Spark Agency, Jerónimo Martins and Deloitte and 1 during class time at Spark Agency) and created and led an ambassador program on my campus. In addition to these activities, I have always kept the focus on academic excellence, finishing the course as the best student in the Management degree.
One of my passions has always been to solve problems / case-studies and, combined with that, I have always been motivated by different challenges. In addition, the Erasmus I carried out in Vienna reinforced my desire to have an international career, which would allow me to broaden the scope of experiences / challenges / people with whom I would contact. So, for these 3 factors, being 1) the search for excellence ; 2) the desire to have an international career and 3) the passion for constantly having different challenges, the choice for a consulting career at Oliver Wyman in Madrid turned out to be natural.
For colleagues who are now on their way to Iscte Business School, I leave 2 pieces of advice - first, it is essential to combine theoretical / academic knowledge with experience in the job market. This type of experience can not only be decisive to guide future career choices, but, above all, it will allow you to start building your business network. We are the sum of the people we know and, more than that, meeting excellent professionals only brings us more perspectives of different growth / evolution / challenges. The second piece of advice I leave is to set challenging goals. In Portugal it is not always accepted / encouraged that we want to be the best in what we do, but personally, I consider that the ambition / the will to grow constantly is one of the best characteristics that we can have. However, just as important as being ambitious is to define a plan to achieve our goals and put it into practice.
I am now starting my 10th month at Oliver Wyman and, with the exception of 2 months where I worked on the client, my experience has been remote. However, I am sure that the move to Madrid will be one more factor that will increase my personal and professional growth and that is my main goal: to continue to grow and evolve!
Duarte Carvalho | Ireland
Account Relationship Manager at LinkedIn

Dublin, Ireland

Master in Marketing 2013
I am currently working on Linkedin (Professional Social Network). I work as Account Executive & Territory Manager for the Corporate & SMB segment of Talent Solutions at Linkedin Corporate Solutions.
This work is carried out directly with companies in Portugal and my main responsibilities are:
- Territory Planning and budget allocation.
- Increase the presence of Linkedin Corporate Solutions in Portugal;
- Billing growth of Linkedin corporate solutions in Portugal.
- Work daily with Portuguese companies in order to streamline and manage recruitment processes, using the Linkedin user database for that purpose.
From an early age, I started an international experience, when I was still 17 years old. That is why I later joined the Master in Marketing at Iscte Business School, due to the international character; I took advantage of the knowledge acquired to continue an international path.
After experience in an international company in Portugal and during an international application process, Linkedin's opportunity in Dublin appeared at the same time.
Thus, I reached my final goal of joining a multinational company and being in contact with a more dynamic, competitive and challenging economy; points that I consider important at an early stage of professional life.
During the time I studied at the Iscte Business School, I stressed some points that I consider most valuable for my professional performance - Participate in-group work with students from different cultures. Intervene, learn and discuss topics in English, which has become a training in the official language of many international companies. Case studies and discussions of different real situations in the corporate world, applicable later in day-to-day life.
To the student at the Iscte Business School, I recommend looking for a company with international activity, so that when participating in the projects, it is possible to have a greater/better perception and learning about different markets and economic scenarios, in addition to an open door to a possible international experience. Look for the best place to learn and ask always to speak to your direct manager, since this will depend on the happiness of your day-to-day.
I am in a different cultural context, but in the same situation as many professionals in the Irish job market. Sharing experiences with friends of different nationalities, but in similar situations, makes the situation more pleasant and friendly during the time they are in Ireland. The biggest difficulties will perhaps be adapting to temperature and a less outdoor lifestyle like what exists in Portugal.
Missing my friends/family, Lisbon and Sol.
Filipa Paisana | USA
Global Sales Operations at Oracle

San Francisco, California

Undergraduate Degree in Marketing (2007)

Master in Marketing (2012)
I am currently working for Oracle, a giant American multinational that operates in the area of ​​computer technology. The headquarters are in California (in Silicon Valley), where I am responsible globally for Sales Operations and for the Demand Generation area.
I work with several internal organizations in the definition and execution of internal processes and tools, used by the company's sales teams.
I always wanted to explore the world beyond the Iberian Peninsula, and with ISCTE Business School, I did Summer School in Thailand and Exchange in Chile. Two fantastic experiences!
During the first five years after graduation, I worked in the FMCG area for multinationals in Portugal but I continued with the "bug" to return to live and work outside Portugal. I wanted to have a "macro" perspective.
My fascination with the world of technologies took me to Dublin, where I started my career again, and joined Oracle, and where I lived for seven years.
The company was growing fast and, thanks to the set of experiences I had during the course (national and international studies, group work, part-time work ...) and the experiences of working in multinationals in Portugal, my rise was rapid.
My last job in Dublin (where Oracle has its EMEA headquarters) was already in a global organization of the company and the invitation to come to San Francisco to join the team at headquarters came naturally.
North American culture is very different from Portuguese. I would say that there are more opportunities here because there are fewer limitations imposed by society. You can see results faster, but also a more individualistic society, where there is less community spirit.
Different states have different rules and cultures, it would be unfair to say that California represents the rest of the country (it does not). Getting out of your comfort zone is always a challenge. Whether that changes course, city, country ... I believe that we have grown immensely during the processes of change and, for this reason, I continue to challenge myself constantly, to seek change. Portuguese people in general have good adaptability, resilience and ease with Languages. We are incredible and we have everything to work out wherever it is, if we want to.
There are undoubtedly two factors that I consider distinctive at the Iscte Business School: The weight of group work (which recreates the work environment) and the possibilities for international experiences.
In addition, if you are a recent graduate you should appreciate yourself! This goes through several things but mainly through invest in you beyond the course - learn languages, study abroad, get involved in internal organizations, do workshops ... you must also recognize the value you have, not only for the course but for the personal skills you develop during the course and during "extra" experiences.
I have been out of Portugal for a long time and I have been lucky to be able to "return home" very often. This helps a lot in the management of homesickness.
Obviously, I end up missing my family and friends more, but the technology available today shortens the distance a lot.
Even so, sometimes I miss my city, which remains my favorite in the world - Lisbon.
Inês Rúbio | China
Senior Strategist at Ogilvy

Shanghai, China

Master in Marketing (2012)
Hello! My name is Inês and I was a student of the Master of Marketing at ISCTE in 2012. I am living and working in China, and I am writing to you from the future (7 hours ahead, to be more exact).
Imagine yourself sitting at a bar table, on a terrace in a very tall building, surrounded by other even bigger buildings. On your right side, a vertical garden paints the gray landscape green. You are now on the seventh floor of Ogilvy's Shanghai office, where more than 600 people work.
As a Strategist, my mission is to understand people and brands - what people want from brands, and what brands can give people. For this it is important to research, analyze and read a lot, but it is even more important to turn off to think, observe and ask many questions.
In a city where time seems to pass at the speed of a delivery boy, it is hard to hang up. The fear of blinking and being out of date is real, and there is so much to absorb and process that euphoria and frustration go hand in hand.
When I studied at Iscte Business School, the Master gave me the tools I needed to make the transition from management to an area that needs both analytical skills and creative thinking. But, it was the group work that got me addicted to discussing and exploring ideas, collecting references and running to keep up with culture.
Throughout my professional career, I realized that I wanted a job where I felt like this, constantly stimulated. Probably one of the reasons why I moved so often and moved to Shanghai as a Strategist.
If I can leave a final note from the future, it is that the path to professional (and personal) achievement is rarely linear. With Luck, you won't need to change as often as I do until you find what you really enjoy doing. With even more luck, you will change many times, learn many different things and, who knows, land in China.
Mafalda Biga Campanha | Spain
Key Account Manager in SC Johnson
Madrid, Spain
Undergraduate Degree in Management (2010)
Master in Marketing (2012)
Hello! My name is Mafalda and I work in an American multinational. I worked in the Marketing area and I am currently Key Account Manager in the Spanish market.
I am responsible for the overall performance of the accounts under my responsibility, in their different variables.
My first experience in the job market was in a large consumer multinational, in the Portuguese market. It was a summer internship promoted by the Career Services at Iscte Business School. Since that moment, I have been accumulating experiences in the areas of Sales and Marketing in different industries - Automobile, Pharmaceutical and Mass Consumption.
I always plan to have international experience, professionally before 30 years old. That was the reason that made me leave my comfort zone and 'fly' three years ago to Madrid, where I am lucky to work with people from more than five different nationalities, in a unique multicultural environment.
I have always had Iscte Business School as a reference school in the areas of Management and Economics. For that reason, it has always been my first choice. The quality of the teaching staff, the facilities, the complementary services it offers its students, such as the IBS Career Services nucleus, were fundamental for my training, entry into the job market and current performance of my duties anywhere in the world !
I recommend to current students that they rely on the platforms that Iscte Business School has at your disposal, they are important vehicles for entering the job market and never stop updating. The course offers us all the tools to enter and deal with the job market, in a very practical and assertive way. However, personal and professional training is a dynamic and continuous process, constant updating is essential for success.
Personally, I find it easy to adapt to different contexts and environments and the main difficulty in Madrid was not being a 'native speaker' in an area where this point is still highly valued. The greatest facility was to find a multicultural environment, with different cultures and nationalities, which fostered the spirit of unity and team spirit of the group.
I am lucky that Madrid is an hour by plane from Lisbon, which allows me to appease my missing. However, as in Lisbon I have always lived very close to the sea and exchanging jogging beside the sea for Parque do Retiro was not a winning exchange!
Mathilde Farez | Chile
Retail Planner Nike Stores at Nike

Santiago, Chile

Undergraduate Degree in Management (2015)
Hi, I am Mathilde Farez, a former student of Iscte Business School. I have been working at Nike for the past 2 years, my main functions as a Retail Planner are to plan the sales and therefore forecast future collections of the Nike Stores in Chile (South America).
I arrived at ISCTE University thru the exchange program it has with KEDGE Business School from France, where I studied during my first 2 years of college. I am lucky to be half-French, half Chilean and when I finished studying I know I didn't want to go back to France. During my last year at KEDGE, I had the opportunity to do an Internship here in Chile, in a Brazilian company called Natura, after that internship I decided to stay in Santiago. I have been living here for the past 4 years and I have really enjoyed my professional life.
I think that what I would mostly highlight from my experience at Iscte Business School would be my abilities in English. As I work in an American company today, I am asked to report information to USA, travel there and therefore be able to explain our plans in English. Having all the classes in that language at Iscte Business School helped me learn a vocabulary that I frequently use nowadays.
One tip that I would give to students finishing classes at Iscte would be, to be to wait until defining completely what they want to do. The professional life is sometimes very different from the courses we learn at university, so take the time to try areas or types of jobs thru internships maybe, to define what interests you.
When I arrived to Chile, I already knew the country, but mainly from holidays, and had never worked here. South American culture is very different from the European one. I had to adapt to the way of talking (different from Spanish in the rest of south America), the way of behaving, the way of working, etc. I arrived speaking fluent Spanish, but I wasn't used to use professional vocabulary in a daily basis, so that was something I had to adapt as well. What I mostly miss from France are my family and friends.
Nuno Sério | Australia
Account Manager at JB Hi-Fi Solutions

Sydney, Australia

Undergraduate Degree in Management (2007)

Master in Marketing (2009)
Good Morning! My name is Nuno and I was a student of the Degree in Management from 2003 to 2007 and the Master of Marketing in 2009 at the Iscte Business School.
I work as an Account Manager in the B2B segment for the largest Australian company - and one of the 15 largest in the world - of retail technology, JB HiFi.
The commercial area and, more specifically, the interactions between companies (B2B) have always fascinated me, so it is not surprising that I find myself playing a role in this area during the last 5 years (after changing location and function several times).
Undoubtedly, the Iscte Business School had a huge impact on the direction I took in my life - having the option of studying part of the degree in English and interacting with foreign students since the first semester of university has exposed the interest in traveling and discovering new cultures.
Teamwork and the quest to create new solutions in the world of new technologies is fascinating and I often find myself working in a room with 4 or more people "brainstorming" trying to solve a problem for a client and remembering at the same time who 15 years ago, when studying at Iscte Business School, had a similar experience!
I think the best advice I can give to any young student is: do not settle! If you have a particular dream or desire, pursue it. Life takes many turns (mine has already crossed three continents!) And for sure that at various times in your life you will doubt your abilities, but it is important to be humble and have the dexterity to stop, think and redo, in order to be able to prosper.
Pedro Guilherme Martins | USA
Associate, Equity Swaps TA at J.P. Morgan

New York, United States

Undergraduate Degree in Economics (2014)
JPMorgan Chase & Co., one of the oldest financial institutions, offers innovative financial solutions to millions of customers. A universe ranges from small and medium-sized companies to the most prominent government institutions and customers. Our history began over two hundred years ago and today we are the leader in Investment Banking, Consumer Banking and Small Business, Commercial Banking, Financial Transaction Processing and Asset Management. We recognize that people are our strength and that the diversity of talent, from all my colleagues globally, it is directly linked to our success.
I am currently an Associate Trader Assistant in Equity Swaps and I am located in Manhattan, New York.
Well, I was born in the United States, but I went to Portugal when I was 3 years old. When I went to visit my mother, I was 5 years old at the time, I remember she took me to Wall Street and I was fascinated with the energy. The story goes that I said: "one day I will work here", but honestly I don't remember that part.
Moving forward a few years, at the time I was in the middle of the Master of Finance at Iscte Business School when my family started experiencing financial difficulties. I think that there is a time, in the life of each one of us, when there is a yearning to succeed and go beyond. My desire to succeed was always very visible, but the initial push was really the difficulties we were experiencing as a family.
Therefore, I decided to put the backpack on my back, leave the Master's behind and go to England to try my luck. Honestly, the first 4 months did not go well. Initially I chose to go to London, but I could not find work in the area, and when the money ran out, the best I could find was a job serving drinks at a casino. That was when my uncle called me. He lived in Dorchester, a city 4 hours from London, and he told me to stay with him until I got something more tangible. At the time, I couldn't help feeling the bitter taste of defeat when I left London, but today I realize, and referring to my uncle, that it was another strategic retreat.
JPMorgan, has its headquarters in Bournemouth, about 45 mins from Dorchester, and I applied there. I was accepted and started as a temporary. From there, I tried to identify what was missing, what processes could be improved, learn the systems and become essential in my work. After three weeks, offered me a permanent position at the company. I noticed that there were possibilities for automation, but I never learned to code. I was introduced to someone within the company who knew and asked him for some of the codes he had made and experimented until I achieved what I wanted. When I completed two years in the company, the team I was on was covered 24 hours a day, spread across EMEA, APAC and NA, and one of the NA managers came to have a training session in Bournemouth and asked me if he could see how I worked. When he finished his stay, he asked me if he would be interested in going to New York, and after 4 months he made me an official proposal. As I always wanted to go back to the country where I was born, and although it was one of the most difficult decisions that I had to make considering that I had a stable life, I accepted the proposal. I realized that I would never forgive myself if I said no and knew that I would have more opportunities to come here.
After two and a half years in England I went through a total of 3 teams to improve processes, in addition to doing the daily tasks.
At Iscte Business School I was fortunate to have teachers who were passionate about teaching and they liked what they taught and that was an excellent basis to motivate me to always want more until I get to the point where I am happy with what I do. I have to highlight Professor Henrique Monteiro, who always remembered my name even though he had 100 or more students per semester and Professor Sofia Vale; both taught with great pleasure and both Micro and Macroeconomics were essential for me. I think that one of the most important classes, and that really contributed a lot for me to achieve what I achieved, was "Competitiveness and Cohesion Policies", with Professor Ricardo Mamede. The effort he made to establish critical thinking and the "why" culture was decisive in my "mindset", and in the success that I have had in my professional career. The reason processes or systems and the ability to think about how we can do better was decisive for my future within the company. I would also just like to mention Professor José Dias Curto who had the gift of making "Quantitative Methods" look like a simple matter; he always had super dynamic classes and he always made himself available and made an effort for each student to excel.
It may be an unpopular opinion, but I also owe a lot to ISCTE events. Especially to the Students' Association where I spent two years helping to organize parties and social events. I think that if I had not been so present I would not feel so comfortable to do networking, to relate to other people and to create good friendships. In New York, when you go out to events you have bankers, lawyers, doctors, entrepreneurs, actors, etc., people who can create huge opportunities for you and if you don't have the capacity to socialize, in my experience, you are at a competitive disadvantage. The ability to empathize and connect with other people is essential in most careers and the way I personally developed the most in this area was by being part of the Association and being present at events.
An advice for current Iscte Business School students: believe in yourself, even if no one does or is going through a difficult time. I always said I wanted to go further, but I can count on my fingers the people who believed that, without a doubt, this would happen. There will be times in your life when no one will believe that you are taking the right step and that is when you have to have more confidence in you, rationally, of course.
Do your homework. Listen to all opinions, but do not follow anyone, look at the details, understand the nuances and think about where you want to be in 5-10 years from now. Create plans and outline strategies, try to inform yourself as much as you can about the steps you want to take and how you want to take them.
Don't be afraid to dream big. Not to start small. Understand what you can bring to the table and have enough humility to realize that sometimes it is necessary to "have a foot in the door" and grow.
Never show up empty handed for a problem. Even if you are not experienced, you always have the ability to suggest a solution instead of just pointing out the problems. Nobody wants problems, only solutions. "Feed the bear".
Enjoy the ride. It is important to have life goals, fight for them and not lose focus, but if you are unable to enjoy the route, you will never be happy. Find hobbies or ways to relieve the stress/pressure you are experiencing.
In England the main difficulties I felt were: English, I always spoke English, but they have so many accents that there was a time when I doubted myself if I could speak the language; and the food was heavier than our traditional cuisine. On the other hand, people are super polite and fashion in general is very good.
With regard to the United States, namely New York, I think it is extremely difficult to start here, especially since it is essential to have a good credit history. For the simple rental of an apartment, or room, you usually need to have a good Credit Score and when you arrive, you still haven't had a chance to build that Credit Score. On the bright side, there is always something interesting to do and I have adapted well to my lifestyle.
However, I miss my family, all my friends, Lisbon, traditional food and Portuguese beaches. Being an emigrant is living in a constant dichotomy in which you never feel complete. I think it is important to highlight this, so that anyone thinking about doing so is aware of the risks. You are happy at a professional, financial level most of the time and even personal, but nothing fills the void that is leaving your country and the people you love.
Ricardo Rato | Macau
Director - Strategic Analysis Sands China Ltd.

Macau

Undergraduate Degree in Management (2004)
I am Director of Strategic Analysis at Sands China Limited, a subsidiary of Las Vegas Sands, the world leader in casinos and entertainment.
He lived in Macau as a young man and was curious to return. When I finished the course, the opportunities I got in Portugal didn't excite me and I decided to try Macau. In addition to professional experience, Macau also had the appeal of being an excellent base for travel in Asia.
And I am happy with the choice I made, since I am in Macau I have worked in 4 different industries, founded and sold 2 companies, did a PhD, and all this while getting to know almost all the countries in the region.
The greatest asset during my course at the Iscte Business School was to develop confidence in myself, that through independent study and discussion with others I could understand the different themes. Even today, in my work, I have to study new areas and this ability to learn has been fundamental.
My advice for a current student at the Iscte Business School would be to get professional experiences during the course, with volunteers, part times or internships that allow you to have some contact with the different possible work areas to understand what attracts you, and also making contacts that can be useful later.
Another suggestion is that you try to complement the main study area with learning other skills that are not necessarily related, but that can differentiate you as a candidate. In the area where I work, candidates with skills in programming, statistical software, data visualization, written or verbal communication have a clear advantage over others who only have a basic degree.
Macau is an easy place for Portuguese people and, therefore, I had no difficulties. I miss my family, friends, some places and food, but fortunately I go to Portugal often.
Rui Duarte | Japan
Maketing Manager Coffee Systems at Nestlé Japan

Kobe, Hyogo, Japan

Undergraduate Degree in Industrial Management and Engineering (2011)
Nestlé is the largest food and beverage company in the world. We have over 2000 brands, global and local, and are present in 189 countries. Inspired by the scientific discovery of our founder, Henri Nestlé, guided by our values ​​and with nutrition as the central pillar of our activity, we work side by side with our partners to improve the quality of life and contribute to a healthier future.
My duties at this moment are Marketing Manager Coffee Systems at Nestlé Japan. I am responsible for leading a multi-cultural and multi-disciplinary team that manages the business of Nescafé® Dolce Gusto® in Japan - the largest market for the brand in Asia and the 4th largest market in the world.
I started working at Nestlé Portugal in 2012 as a Trainee in the Coffee area and permanently admitted in early 2013 as a Brand Manager in Nescafé® Dolce Gusto®. After 4 years of professional development and growth in Portugal, the possibility arose to travel to South Africa to lead the Nescafé® Dolce Gusto® business in that country and throughout the region. Despite being, a smaller business vs. Portugal was a great challenge in which we managed to grow the business exponentially. During this adventure in South Africa, I was also responsible for launching the Starbucks® brand for the home, which was also a great success.
In 2019 and after 3 years in South Africa I received the proposal to go to Japan to lead and grow the business in the country.
As you can see, early in my career I was guided by the desire to have different experiences in different areas of the globe. Working with people from different cultures and knowing different markets was a conscious decision to help me grow professionally and personally.
My training at Iscte Business School helped me mainly in two areas: The first area is work ethics, where I learned over the years at Iscte work methodology, responsibility, time management and knowing how to meet and respect deadlines. The second area is the connection to teamwork where I learned to deal with diversity of work teams, as well as project and people leadership.
To the new students of Iscte Business School, I leave three advices that have guided me in my career: Personal Branding - it is important since day one that we have the notion that everything we do, everything we say, as well as everything we don't do and don't say is being seen and interpreted by our leaders, colleagues and employees. This means that we must take advantage of the different interactions to prove that we are respectful, professional and hardworking.
Trust and opportunities / prizes are won - trust takes time to earn and little time to lose. The more you trust us and our work, the more opportunities will arise.
Define your goals and your limits - it is important from the beginning that we know what we want to remove from each challenge we have and know where we want to go and what we want to do. It is even more important that we define healthy limits for our work - number of hours of work, knowing how to say "no", etc. - because our behaviors will make others respect our limits.
Right now, I am in an extremely different cultural context. Despite the easy adaptation to the lifestyle in Japan - the quality of life is quite high and very easy to adapt for those who come from a European culture - the language turns out to be the great cultural barrier. Additionally, it is important to understand that the Japanese way of thinking and acting is quite different from ours, which requires us to be able to adapt and adjust in order to integrate.
I miss mainly family and friends. Fortunately, nowadays with all the existing media, the distances shorten a little, but above all it is they that we most miss.
Sara Sobral | Luxembourg
RM Graduate at European Investment Bank (EIB)

Luxembourg

Master in International Management (2019)
I am working at the European Investment Bank (EIB), the largest multilateral financial institution in the world.
The EIB is owned by the Member States of the European Union and therefore has a very close relationship with the European Commission, in order to help achieve the EU's strategic objectives. It is a different Bank, in that it does not provide financing, but partly co-finances specific projects (ie, the Bank only finances up to 50% of a project because the objective is for the private sector or other financial institutions to also invest the same) and with more favorable conditions, due to the Bank's cost of financing being low because of its AAA rating. In this way, projects that would be considered high risk and could not be carried out (for example, research in the health area), are able to move forward because the EIB accepts more risk than a typical commercial bank. Therefore, the Bank's major investment areas are: Climate/Environment, Innovation, Small and Medium Enterprises (SMEs), Infrastructure and Cohesion.
In my team specifically, we assist the Commission in the risk analysis of projects that will benefit from the European Fund for Sustainable Development (EFSD) Guarantee - projects in neighboring countries or in Africa, with a focus on renewable energy, SMEs or healthcare.
I did Erasmus during my degree in Oslo and, while there, I did an internship at a start-up. When I finished my degree, I decided that I wanted to go back to live abroad or at least work some time abroad. At the time, I ended up on a 9-month internship at BNP, of which 3 months would be spent in Stockholm - I did not think twice! I ended up staying at the BNP for about two and a half years, because in the meantime, I enrolled in the Master in International Management at Iscte Business School, which is after work hours. When the curricular part ended, I thought it was time to look for opportunities abroad again and I applied for several Graduate Programs. I ended up joining the EIB and have been in Luxembourg since June 2018.
My experience at Iscte Business School ended up escaping normality a little, that is, having my Master after-work hours, I ended up not having so much contact with students from other master's degrees or with college life outside of classes. However, as Master in International Management has foreign Teachers from different regions of the World teaching different chairs and half of my class also came from outside Portugal, the part of cultural diversity and the different ways of communicating ends up being a lot of work. For those who go abroad to work or study, this is very important and helps us to be more flexible in this area.
Another relevant point was the necessary organization to be able to reconcile work with studies, since we had classes almost every day from 18.30-21h and still many Saturday mornings. I always planned my weeks, but at this stage of the master's it was a challenge due to the work we had, often with short deadlines.
The formative years are very important. Not so much because of the material that is given in class, since a large part is not immediately applied in our professional life and, therefore, we naturally end up forgetting, but because it instills reasoning and logic, which helps a lot in the way how we tackle problems later. Therefore, my first advice for current students would be to be concerned and invest time trying to understand things, asking teachers questions or asking questions with colleagues if we are not following something.
Enjoy life outside. It is important to be with friends, to see different things, to visit other countries, to leave our comfort zone. This makes us more open to change and, especially nowadays, this is fundamental.
When I arrived in Luxembourg, I knew only one boy who had been my colleague at BNP, so I came with some fear of not being able to adapt or feeling that some piece of the puzzle was missing. I ended up joining the group of friends of this colleague of mine and I thought that the only way to integrate completely was if I accepted the invitations they made, that is, spend the maximum time with them to meet them. Nowadays, I can say that it was the best decision I made. I arrived at the height of summer and, taking advantage of their wave, I ended up getting to know a lot of the country went to various events and ended up meeting other people. I cannot fail to point out that it helped a lot that about 70% of the population of the city are foreigners and there are many young people like me.
The fact that there is a large community of Portuguese here is also helpful, especially when it is necessary to go to the pharmacy or hospital. Interestingly, my first landlord was Portuguese and was always very available - he even helped me to read the lease, which was in French.
With such a large community here, I end up not missing the gastronomy or sweets very much; there are several good Portuguese pastries in the city. However, what I miss most is being able to go to the beach at the end of the day or at the weekend or even being able to have a drink after work, watching the river or the sea - here the river is very small and, therefore, is little used. On the positive side, I end up cycling a lot here and enjoying the gardens more!
Telma Cabral | Angola
Audit and Internal Control Director, Finibanco

Angola

Undergraduate Degree in Finance and Accounting (2011)

Master in Business Administration (2013)
Going back to the time I was a student at Iscte Business School, I cannot avoid a huge smile on my face. I highlight the teaching of excellence, the close relationship that is established between students and teachers that allows us to study in a relaxed and familiar environment without ever neglecting the professionalism that a degree and master's degree require. The teamwork component is a very strong and prominent factor in all training and is a great asset that prepares us for challenges in the business context. The business recognition is immense, with almost total employability rates and the strong connection of the Business School Career Services and all the inherent initiatives that guarantee the best professional placements.
For students who are just finishing their training at Iscte, one piece of advice I leave is "Have a Focus" and set a clear goal to maintain motivation in looking for your first job, serving as a guide for your professional choices and later drawing up a strategy to achieve the goals and plans for the future.
I am currently working in Luanda, Angola, at a banking financial institution, Finibanco, which belongs to the Banco Montepio Group. I am responsible for the Audit and Internal Control Department. I have as main responsibilities to lead a very dedicated team and ensure the permanent activity of the internal audit function, in an independent and objective way, which aims to assist the members of the institution in fulfilling their responsibilities and objectives, through the use of a systematic approach and disciplined to assess and improve the effectiveness of risk management, control and governance processes.
I started my professional career during my degree, with a summer internship at Caixa Geral de Depósitos. The following years and during the summer vacation periods, I obtained experiences as a commercial assistant at leading banking institutions in Portugal. When I finished my master's degree, I joined full-time at a multinational consultant, PwC Portugal, as an external auditor, in the area of ​​financial services, where I had the opportunity to develop some projects in Angola. When I arrived in Angola for the first time, I felt an immediate connection given the great family connection to this land. After some temporary projects, I chose to join Ernst & Young where I had the opportunity to work in Luanda on permanent projects, also in the area of ​​auditing financial institutions. It was the professional network and the taste for the banking sector that led me to the institution and functions that I perform today.
As for this experience abroad, I highlight that Angola is a country that raises challenging experiences on a daily basis, however, it is easy to get used to the country not only due to the tropical climate, but also due to the proximity to the local community and culture motivated by the history and ties between the two countries. Despite this tremendously enriching experience at a personal and professional level, many miss the family and friends that remain in Portugal, but fortunately the new technologies and social networks help to close that gap.
Are you an Iscte Business School alumnus that would like to share your testimonial?
Get in touch with Duarte Madeira (Alumni Relations) through career-services.ibs@iscte-iul.pt or +351 210 464 205!