Courses in English
List of available courses for 2022/2023
Use filters to search courses according to the number of ECTS, cycle of studies, semester and language.
When choosing the courses, please be aware of the following:
Due to the high number of offered courses, some of the classes may overlap. The students should not choose overlapping subjects, as all scheduled classes are mandatory.
There is a limited number of exchange students accepted per course.
Only when duly justified, are students allowed to sign up for courses amounting to more than 30 ECTS credits.
Schedule of classes at Iscte - breaks

The breaks between classes are the following (for scheduling purposes, these breaks are not indicated in the Fénix system):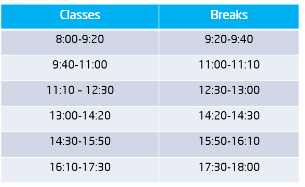 International Office
(+351) 210 464 331
international.ibs@iscte-iul.pt