Eventos
HR Digital Transformation Conference (June 21 and 22)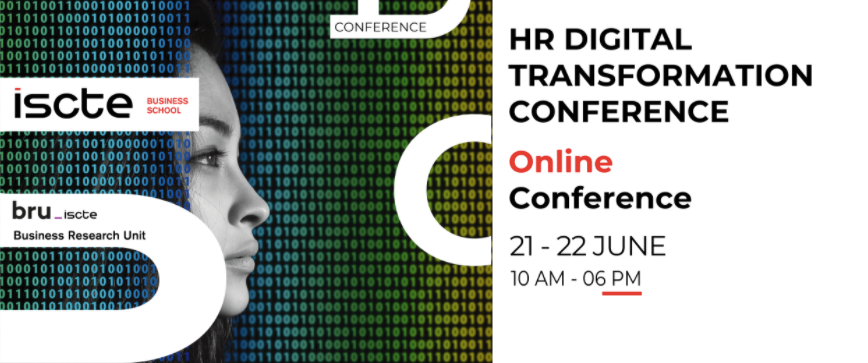 The Master programme in HRM and Organizational Consultancy and BRU (Business Research Unit) of Iscte Business School invite you to the 1st Edition of the HR Digital Transformation Conference, on June 21st and 22nd (online).

Main topics:
• Digital transformation challenges for HRM;
• Technologies most used today and how they help businesses;
• Barriers, facilitators (various levels: pandemic context, national, organizational, group
and individual);
• Remote work and the post-pandemic future;
• Forecasts for the future;
• Ethical issues/concerns.

This conference will feature several panels (moderated by Iscte faculty) with companies from diverse sectors of activity.


This project is developed in collaboration with Neotalent, with the support of Portugal 2020 funds, and under the leadership of researcher Aristides Ferreira. BRU-Iscte researchers, Ana Passos and Jorge Sinval, are also members of the team.
HR Digital Transformation Conference | June 21
10:00
Welcome Remarks
Maria João Cortinhal, Dean of Iscte Business School
Mário Rocha, Senior Manager at Hays
10:30
Moderator: Aristides Ferreira- Professor at Iscte

"This is the way. The inevitable transformation of talent management"
Paulo Almeida – Head of Innovation & Transformation at Neotalent
"Gamified Assessments: A Blend of Gamification, Modern Psychometrics and Machine Learning"
Jorge Sinval – Iscte – Instituto Universitário de Lisboa
"Situational Judgement Tests: from Theory to Practice"
Beatriz Trigo – Iscte – Instituto Universitário de Lisboa
"Retiring the resumé: leveraging Blockchain for a living, trustable curriculum vitae"
Paulo Rupino - Universidade de Coimbra
"Are managers ready for HRM 4.0? The potential role of blockchain technology in HRM"
Alexandra Constantinidi - Iscte – Instituto Universitário de Lisboa
"Smart Recruitment – Support tools"
Hugo Amaro – Project Manager at Instituto Pedro Nunes (Coimbra)
---
14:30
The disruptive world of people management: New paradigms and challenges
Patrícia Costa - Moderator / Professor at Iscte
Márcia Leitão – Manager Sul and Permanent Placement Lisboa at Adecco
Sérgio Calhau – Principal at Mercer
Tiago Muge – Principal at KornFerry
16:30
Future of digital era: Helping companies growing
Nelson Ramalho - Moderator / Professor at Iscte
Anabela Silva – Partner at People Advisory Services at EY
Ana Maria Lebre – People Manager at BCG
Nuno Simões – Human Capital Director at PwC
Andreia Martins – Senior Manager at Deloitte
Ana Bernardes- Human Resources Director at Accenture
HR Digital Transformation Conference | June 22
10:00
The new dimensions of digital transformation

Henrique Duarte - Moderator / Professor at Iscte
Arlindo Dias - IT Architech at IBM
Margarida Calado - Head of People at Everis Portugal
Luís Mendes – Human Resources Diretor at Solvay
11:30
The scientific advances on the improvement of population's life quality
Sílvia da Silva - Moderator / Professor at Iscte
Mariana Neto – Researcher at INSA (Instituto Nacional de Saúde Dr. Ricardo Jorge)
Joana Diniz Esteves – HR Business Partner Diagnostics, Europe Middle East and Africa at Siemens Healthineers
João Couceiro – Medical Affairs Manager at AstraZeneca
14:00
Hospitals and technological advances in the provision of health care to the population
Francisco Nunes - Moderator / Professor at Iscte
Fernando Melo – Information Systems Director at Centro Hospitalar Universitário Lisboa Norte
Susana Moreira da Silva- Human Resources Director at Lusíadas Saúde
Anabela Lobo de Carvalho- Human Resources Director at Grupo Luz Saúde
Ana Paula Prates - Head of Talent at CUF

16:00
Retail: Enhancing the omnichannel strategy
Sandra Costa - Moderator / Professor at Iscte
Elsa Dinis – Senior Project Manager at Jerónimo Martins
Rita Mingatos – HR Recruitment and Development at FNAC
João Antunes – Head of Talent Acquisition at Inditex
Inês Vieira – Senior International Talent Acquisition at La Redoute Portugal
18:00
Conclusion and Final Notes
Rui Nascimento Alves - Vice-Presidente da Direção Nacional da APG - Associação Portuguesa de Gestão das Pessoas
The session will be broadcasted live, to the public, on Iscte Business School's Youtube channel
Contact: hrdigitaltransformationc@gmail.com