Leadership and Strategic Knowledge
Leadership and Strategic Knowledge
Programme
This programme focuses on how students become effective knowledge agents by addressing the importance of leadership, knowledge management and innovation.
At the end students are expected to:
- Discuss the knowledge society and economy
- Understand the concept and the nature of organizational knowledge
- Learn about Knowledge Management
- Discuss the relationship between strategic knowledge management and innovation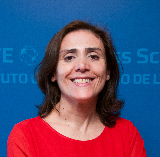 Prof. Alexandra Fernandes
PhD in Management, Iscte
Assistant professor at Iscte
Specialization in Knowledge Management and Health Management.
Leadership and Strategic Knowledge

Prof. António Vieira da Silva
International Business Advisor;
Invited Associate Professor at Iscte
Academic background in Business Administration, at Universidade Católica, Portugal.
Patrícia Pinheiro 
(+351) 210 464 257
short-term.ibs@iscte-iul.pt