Mestrado
De momento, as vagas para este curso estão todas preenchidas
Leccionado em Inglês
Lectured in English
Iscte Business School is well-known for offering the most highly rated, business-oriented MSc in Marketing in Portugal, with a clear international focus. Our full time programme is designed for students with little or no work experience and will provide them with a highly advanced qualification, both theoretical and practical, that will boost their career prospects. 

Double Degree
This programme has Double Degree partnerships with the universities listed below. For more information, click here.
International Study Trip, Europe 
Four days' residential stay at the a European Business School gives you the opportunity to obtain valuable international experience. 
There will be slots available for this program.  50% of these slots will be for the applicants of the Master Degree in Marketing with best performance*.
*performance based on the media obtained in the first semester's disciplines.
Mensagem do(s) diretor(es)
The MSc in Marketing is a full-time, two-year programme that offers a highly advanced qualification in the marketing field. It is designed for students who intend to pursue a career in corporate marketing departments. It provides students with a strong background in the theoretical underpinnings of marketing while offering intensive applied training aimed at developing skills essential in the world of corporate marketing. Our graduates have earned an excellent reputation in the corporate sector for their outstanding theoretical and practical skills.
In a competitive, changing business world, there is a growing demand for young professionals equipped with advanced marketing skills, knowledge, leadership potential and the ability to effectively deliver from day one in an organisation. The IBS programme makes use of its in-depth knowledge of the main marketing fields and passes this knowledge on to its students, giving them the tools they need to make an impact. The programme also features guest speakers - well-known to the field of marketing - who are anxious to share their skills and know-how with the participants in the programme.   

Our commitment to academic excellence means we are also committed to the development of each student's personal skills. To assure that each student reaches his or her unique potential, we offer a state-of-the-art personal development programme (PdP) and innovative experiences that enable them to discover their leadership qualities and creativity. 

If you want the best possible preparation for a bright and challenging future in the business world, take a look at the MSc in Marketing of Iscte Business School, a programme that offers the best to those who seek the best.
Lidl rewards the best MSc in Marketing Student.
Why choose the MSc in Marketing? 
You will gain the skills, knowledge, and potential for success in your marketing career that come from our time-honored tradition of connecting theory with practice, and this innovative programme itself that covers the most groundbreaking aspects of marketing;
Through an innovative approach, the programme combines features of marketing and strategic management that explore new frontiers thanks to the expertise of our world class faculty, who give you the organizational vision, objectives, and strategies plus the skills to apply them to marketing;
The programme provides you with unique opportunities for personal development - a central feature of the MSc in Marketing. A parallel programme is also offered that explores and develops every aspect of behavioral, attitudinal, and personal skills, making you better prepared to achieve both your professional and personal goals;
Broad international exposure is provided - not only by our international faculty and students - but by a mid-week residential stay in a foreign country, in association with one of our prestigious educational partners. The mid-week experience will give you direct contact and first-hand knowledge of different business environments and realities.

Note

: the mid-week residential stay takes place on the 1st year of the programme and its realization may be contingent on the current pandemic scenario or students' personal circumstances.
You will have unique opportunities to engage in networking, team-building, and idea-sharing from day one of the course. The programme starts with a week aimed at quickly promoting personal contacts, building team chemistry and fostering programme awareness. This spirit is reinforced year-round with a host of other activities;
The programme gives you a leg up in becoming successfully integrated into the marketplace, with the participation of successful alumni now working for high-profile companies such as UNILEVER, Procter & Gamble, Coca-Cola, Deloitte, Altice, Vodafone, Google, HP, KPMG, Kraft Foods, SIC, L'Oreal, Galp Energia, and other prestigious business companies;
The course content is bolstered by the presence at Iscte of the first European laboratory of research and analysis of new international trends in marketing - The Marketing FutureCast Lab project, sponsored by a joint venture of 20 of the most high profile companies operating in Portugal;
You will get the unforgettable opportunity of living in one of the safest and most cosmopolitan cities in Europe. With a very affordable cost of living, warm climate, sandy beaches and an extremely hospitable, multicultural population, this is Europe's west coast capital;
You will be an integral part of a team of proven success: In 2010 a team of students from the MSc in Marketing won the World Final of the L'Oreal Brandstorm Competition, a leading international competition for business students involving more than 7,000 students from 43 countries.
Informações Gerais
2 anos
Inglês
120
70
Diurno
19 dez 2022 - 16 jan 2023
17 jan 2023 - 13 fev 2023
14 fev 2023 - 03 abr 2023
* Informação para o ano letivo de 2023/2024
Students from outside the EU must pay the whole amount of the tuition fee for each year immediately after enrolment, as payments in instalments are not available.
Accreditations, Affiliations and Rankings

Eduniversal Best Masters Ranking 2021
The MSc in Marketing ranked 42nd in its category, among the Top 200 Best Master Programmes, in Western Europe
QS Business Masters Rankings: Marketing 2022
The MSc in Marketing ensured its position between the 95th and the 105th place in the QS Ranking, which evaluates the best business masters worldwide in the area of Marketing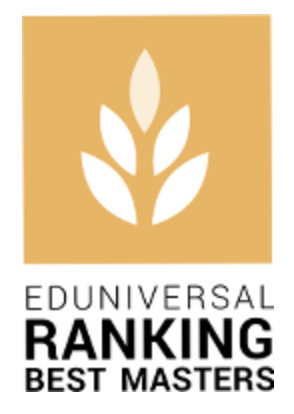 Accreditations, Affiliations and Rankings

Eduniversal Best Masters Ranking 2022
The MSc in Marketing ranked 39th in its category, among the Top 200 Best Master Programmes, in Western Europe