Exchange Week for Visiting Professors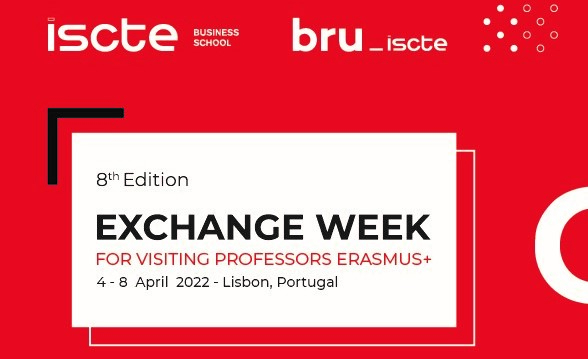 Iscte Business School is glad to announce it will organise the 2022 edition, the 8th since in 2013 decided to bring together faculty from around Europe for a one week collaboration and networking.
Iscte Business School invites international exchange professors, under the Erasmus+ framework, to apply for the Exchange Week, Lisbon. The Exchange Week will include both seminars/lectures targeted at students and a roundtable with researchers.
The Erasmus grant is attributed by home university, thus prior contact with your home international office is necessary.
The research areas of IBS Faculty and possible matching opportunities can be consulted at: https://ibs.iscte-iul.pt/teachers/school/2
The proposals will be evaluated and selected on an ongoing basis. Kindly note that the proposed topics should have an international scope of interest.
Areas of Interest
Up to 2 lecturers per university can be accepted. Some of the specific lecturing areas where lecturers are sought (applications in other areas are also accepted):
Innovation and Entrepreneurship
Strategic Management (strategy formulation, implementation, control, strategic CSR…)
Sustainability and Social Responsibility
Marketing
Big Data Analysis
Human Resources and Organisational Behaviour
Economics and Finance
Programme (provisional)
4th April (Monday)
5th April (Tuesday)
Welcome Session and Welcome Lunch
Round table with researchers and professors of IBS to exchange ongoing research ideas and to explore possible joint projects
6th April (Wednesday)
7th April (Thursday)
Lectures / Seminars
Joint Dinner
8th April (Friday)
Potential further meetings
Getting to know the university, Lisbon and surroundings
Organised tour (optional)
Submit your application here.

International Office
(+351) 210 464 225
international.ibs@iscte-iul.pt